Ahwatukee Dentist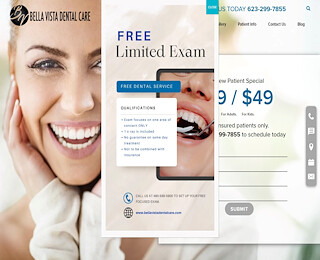 Let the sun shine off your pearly whites this summer with the help of an Ahwatukee dentist. Bella Vista dental care provides the care you need to keep your teeth health and strong. Our cutting-edge comfortable care and predictable treatment outcomes prevent disease and decay. 
How often should I visit a dentist? 
Dental care is one of the easiest and most important undertakings in life. Tooth decay, infection, and gum disease are no laughing matter. Experts recommend visiting a dental professional twice every year. 
A thorough examination and cleaning reach places that traditional floss and Listerine cannot. We ensure a beautiful and health smile for years to come. 
Dentists offer more than just cleaning. Most are trained to spot oral cancer and can provide implants and dentures as needed. 
What can I do if my teeth hurt? 
A mild to severe tooth ache should prompt you to act. Nearly half of Americans suffer from gum disease and the majority of adults over the age of 50 experience severe tooth loss. 
A dentist quickly diagnoses your problems and finds an adequate solution to help manage pain and disease. Allowing the situation to worsen will only increase your discomfort and pain. 
If allowed to progress too far, infection and decay are serious. Tooth loss leads to malnutrition as foods are not chewed properly. If an infection or even cancer spreads, it puts you at risk. 
Tooth repair and replacement 
Your local Ahwatukee dentist is an expert in tooth repair and replacement. Bridges, implants, and fillings are common procedures that restore vitality to your diet and life. 
Get rid of pain and get back to the foods you enjoy quickly. Our therapies and treatments are proven to work.  Partial, full, and immediate implants or dentures are available from Bella Vista Dental. 
Replacing and repairing missing teeth is vital to your health. Nutritional foods lose their effect if not digested properly. Other complications from the exposure of the root and gum lead to ever-worsening disease and pain. 
A natural approach to dentistry 
Every patient is unique and everyone deserves to be treated with respect and dignity. We strive to provide a level of uncompromised care for our customers. Our staff treats patients as one their own, taking great pride in solving problems thoroughly and adequately. 
Rest easy in our hands without any gimmicks or side promotions. Where others offer in and out service or a media filled experience, we dive deep into our customers problems. Our friendly staff wants to understand you better to get at the root of any problem. 
Our commitment to detail makes us a top-rated business in Ahwatukee. We retained first place in 2013 and 2015 as best dentist according to the Ahwatukee Foothills News. Accreditation by the Academy of General Dentistry, ADA, and Crown Council ensures that every solution is a good solution. 
Do not let your dental health decay. Schedule an appointment with your local Ahwatukee dentist today. Bella Vista Dental professionals provide the best smile possible.
BellaVista DentalCare
8887578007
15715 S 46th St, # 104, Phoenix, AZ 85048
View Larger Map
We welcome your comments!