Are you considering getting nitrous oxide in sedation dentistry? It's a safe and effective way to help you relax and make dental visits easier. But before you decide, there are some important things to know about the procedure and how it works.
Nitrous oxide is a popular method of sedation used in dentistry. It's an odorless gas that helps create feelings of relaxation and provides pain relief during dental procedures. Nitrous oxide is administered through an inhaler or nose mask and is commonly known as laughing gas.
If you're considering using nitrous oxide for sedation dentistry, this article will give you the information you need to make an informed decision. 
We'll cover five key points about what nitrous oxide does, how it works, who should use it, its safety features, and the side effects associated with it.
Regardless of your comfort level with dental visits, understanding these factors helps ensure that nitrous oxide will be beneficial for both your mental health and overall oral health!
What You Should Know About Nitrous Oxide Before You Agree to Use It in Sedation Dentistry
As a dental patient, you have the right to be informed about any and all procedures that are being performed on you. Just like any other medical procedure, it is important to understand the risks if you opt for nitrous oxide, also known as laughing gas, in your sedation dentistry treatment.
Here are five things to know before getting nitrous oxide:
1. Nitrous Oxide is Used to Reduce Fear and Anxiety During Dental Procedures
Nitrous oxide has been used in dentistry for over a century to help ease anxieties and reduce fear during dental treatments. It works by acting on the nervous system and providing an overall calming effect that can help patients feel more relaxed during their visits. 
This will allow them to receive needed treatments without feeling overwhelmed or frightened.
2. There are Different Degrees of Sedation that You May Require
Depending on your level of anxiety, your dentist may prescribe different levels of nitrous oxide as part of your sedation dentistry treatment. 
Mild sedation is often recommended for routine appointments or minor procedures such as cavities or fillings, while moderate sedation may be recommended for more complex procedures such as root canals or wisdom tooth extractions. 
Your dentist will assess the best option for you at the time of your appointment.
3. The Effects Wear Off Quickly After Administration
One of the greatest benefits of using nitrous oxide is its quick-acting effects and rapid recovery time once it's administered by your dentist or doctor.
This means that although you may experience some drowsiness following treatment, these effects should wear off within minutes after it's stopped, making it ideal for those with busy lifestyles who need a fast-acting solution to get through their dental appointments quickly and efficiently.
4. It May Not Be Suitable for Some Patients
Although nitrous oxide is generally safe and effective, there are some patient groups who may not benefit from its use due to pre-existing health conditions or medical history; this includes pregnant women and patients with respiratory disease, slow heart rate, weakened immune system, etc.
If you fall into one of these categories then inform your dentist before opting for this method; they may recommend an alternative treatment instead if necessary, such as oral conscious sedation or IV moderate sedation
5 . It Does Not Replace Standard Anesthesia Methods Such As Local Anesthetics
Nitrous oxide is not a replacement for local anesthesia methods (such as injections) used prior to many types of dental procedures; rather it provides additional relaxation benefits on top of existing pain relief methods which can help reduce anxiety even further whilst ensuring that you experience minimal discomfort throughout treatment itself.
Your dentist will advise what anesthesia methods are required prior to administration too therefore always ensure that you follow their instructions carefully when receiving this form of gas – they are there to offer support every step of the way after all!
Other Relevant Facts About Nitrous Oxide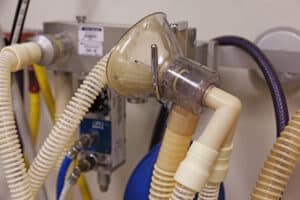 Many people are unfamiliar with the properties and uses of nitrous oxide. While most associate it with its recreational use, it also has many positive benefits in the medical world, particularly in sedation dentistry.
Nitrous oxide can be very beneficial when used properly and can make a dramatic difference to anyone needing dental treatment. 
Other important facts about nitrous oxide and its use in sedation dentistry that you should know are:
Nitrous Oxide Is Commonly Referred to as "Laughing Gas"
Nitrous oxide, commonly known as laughing gas, is a safe and effective anesthetic. It is administered in an oxygen mixture to dental patients through a mask.
Laughing gas will not cause sedation like general anesthesia does; however, it can produce light-tingling sensations, a feeling of numbness throughout the body, and lightheadedness. Despite this, patients are able to interact with dentists during operations.
In conclusion, nitrous oxide is a safe and effective anesthetic.  The use of laughing gas during dental treatments can reduce the level of pain experienced.
The Administration of Laughing Gas Is Relatively Simple
Laughing gas does not need to be injected or administered through IVs. It can be inhaled directly by wearing a facemask and simply taking normal breaths. 
Once the mask is removed, its sedative effects will go away with deep inhaling and exhaling.
Nitrous Oxide Sedation Has Been Used for Many Years
The use of nitrous oxide in medical practices dates back to 1793 when an English chemist by the name of Joseph Priestley invented it. Over two centuries later, it is among the foremost anesthetics utilized in clinical settings.
When Administered by a Trained Professional, Laughing Gas Is Really Safe
Nitrous oxide is harmless to all internal organs. When taken under a doctor's supervision, the only risks are dizziness and loss of balance; however, these only occur for 3-5 minutes after the mask is removed. There are no long-term symptoms or "hangover" effects.
Consider Nitrous Oxide Sedation Dentistry for an Anxiety-Free Dental Care
Nitrous oxide sedation (also known as laughing gas) is a great option for those who experience dental anxiety. It helps to reduce fear and anxiety in patients, making their experiences during dental care more manageable.
It is an easy and cost-effective way to make dental care more comfortable for patients. It does not require any special equipment or lengthy preparation, making it ideal for those who are busy and need a quick solution to their dental anxiety.
Nitrous oxide can be easily adjusted by the dentist if needed in order to provide the desired level of sedation. This makes it much easier to get the right amount of sedation without any added stress.
Are you feeling anxious about going to the dentist? BellaVista Dental Care offers nitrous oxide sedation to make your dental treatment more comfortable. 
Book an appointment today and take advantage of our safe, effective, and cost-efficient way to help you relax during your dental care!