A radiant smile can light up a room, exude confidence, and leave a lasting impression. Composite veneers are an excellent option for enhancing your teeth's appearance, concealing imperfections, and achieving that Hollywood-worthy smile you've always dreamed of.
Choosing the right shade for composite veneers is crucial for a natural and beautiful look. Our comprehensive guide provides expert insights to help you make a perfect choice and achieve a stunning smile transformation.
Get ready to unleash your radiant smile with confidence!
What are Composite Veneers?
Composite veneers, also known as direct composite veneers or dental bonding, are a cosmetic dental treatment used to enhance the appearance of teeth.
They are thin layers of tooth-colored composite resin material that are directly applied to the front surface of the teeth to improve their shape, size, color, and overall aesthetics.
The composite resin used in veneers is a tooth-colored, putty-like material made from a blend of plastic and glass particles. This material is highly versatile and can be precisely color-matched to the patient's natural teeth, ensuring a seamless and natural-looking result.
Composite veneers are an excellent option for correcting a variety of cosmetic dental issues, including:
Discoloration:

They can conceal stains and discoloration that cannot be effectively treated with teeth whitening.
Chipped or Worn Teeth:

They can restore the appearance of chipped, fractured, or excessively worn teeth.
Gaps between Teeth:

Composite veneers can close small gaps and spaces between teeth, providing a more uniform smile.
Minor Misalignment:

They can give the illusion of straighter teeth by reshaping and aligning the appearance of the teeth.

Irregularly Shaped Teeth:

Composite veneers can improve the shape and symmetry of teeth that are misshapen or uneven.
Overall, composite veneers are a popular choice for individuals looking to enhance their smiles with a conservative and cost-effective cosmetic dental treatment that delivers beautiful and natural-looking results.
Composite Veneers: Exploring Beautiful Shades for Your Perfect Smile
Composite veneers come in a wide range of shades, allowing dentists to customize the treatment to suit each patient's unique needs and preferences. These shades are carefully selected to match the color of the patient's natural teeth and achieve a seamless and natural-looking result.
The shades of composite veneers typically follow a color guide that dentists use to help patients and themselves choose the most suitable option.
Some common shades of composite veneers include:
A1

– This shade

represents a bright white color

, resembling the natural color of youthful teeth. It works well for patients with naturally lighter teeth or those looking for a brilliant, pearly-white smile.
A2

– A

slightly warmer shade than A1

, A2 mimics the color of natural teeth that have aged barely or undergone some mild discoloration. It offers a more subdued and natural appearance.
A3

– This shade is even warmer,

imitating the color of teeth that have experienced more noticeable discoloration due to age or staining

. A3 is a popular choice for achieving a natural look.
B1

– A shade with

cooler undertones

, B1 is a light, creamy color that replicates the appearance of whiter teeth. It is an excellent option for individuals seeking a brighter, but not overly bright, smile.
B2

–

Slightly darker and warmer than B1

, B2 is a common choice for patients with teeth that have mild to moderate staining or discoloration.
C1 to C4

– These shades offer a range of

natural tooth colors

, from light to dark, to accommodate various degrees of staining or discoloration.

D2 to D4

– These shades are typically

used to mimic the appearance of older or heavily stained teeth

, offering a more aged or naturally discolored look.
It's important to remember that shade selection is a collaborative process between the patient and the dentist.
Factors such as the patient's desired outcome, facial features, and even the lighting conditions under which the teeth will be seen, can influence the final shade choice.
Dentists use their expertise to recommend the most suitable shade for each patient, ensuring the composite veneers blend seamlessly with the natural teeth and result in a stunning and harmonious smile transformation.
Mastering Shade Selection for Composite Veneers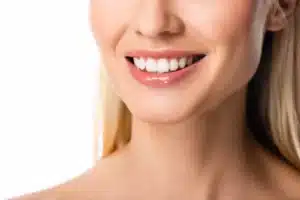 Choosing the perfect shade for your composite veneers is crucial in achieving a beautiful and natural-looking smile.
Here are some valuable tips to help you make the right choice:
Consult with your Dentist
Schedule a consultation with your dentist to discuss your smile goals and preferences. Dentists have experience in shade selection and can guide you in choosing a shade that complements your facial features and looks natural.
Consider Your Natural Teeth
Take into account the color of your existing teeth. Your dentist will aim to match the veneers with your natural teeth to create a seamless blend. If you plan to whiten your teeth, do so before getting the veneers, as the shade of composite veneers cannot be altered once they are placed.
Your skin tone can influence how the veneer shade appears in your smile. Cooler undertones in veneers often work well with lighter skin tones, while warmer undertones can complement darker skin tones.
Examine your teeth in natural light to get a better understanding of their true color. Natural light offers the most accurate representation of tooth color and can help you make a more informed decision.
Think about your lifestyle and habits. If you consume staining substances like coffee, tea, or red wine frequently, opting for a slightly brighter shade may help maintain a brighter smile in the long run.
Some dental offices provide shade samples that you can take home and evaluate in various lighting conditions. This can help you visualize how the veneers will look in different settings.
Take your time in making the shade selection. Don't hesitate to ask questions and request additional information from your dentist to ensure you feel confident in your choice.
By keeping these tips in mind and collaborating closely with your dentist, you can confidently choose the perfect shade for your composite veneers, ensuring a smile transformation that leaves you beaming with confidence.
Get Your Perfect Shade: Consult with Experts for Composite Veneers
Having the right composite veneer shade is vital for achieving the desired outcome. Learning how to choose the perfect shade for your teeth can be complicated but it's a necessary process.
The initial selection of shades may appear overwhelming, but it's helpful to bring in photos of what you want for reference, which will allow us to narrow down the available options and identify a great fit for you.
Additionally, natural lighting or simulated artificial lighting allows us to undertake pictures so that our patients can approve of their new radiant smiles.
With regular dental cleaning checkups and maintenance, your beautiful tooth alterations will look gorgeous for years to come!
BellaVista DentalCare provides the most experienced dental professionals in the area and is ready to help make your dream smile come true today. So what are you waiting for? Contact us today to get started on creating your ideal dream smile!