Have you ever experienced a toothache so excruciating that it felt like your whole world was crumbling down? In such moments, the thought of losing your natural tooth can be daunting.
But did you know that root canals can save your natural teeth and provide relief from pain? Understanding the importance of root canals is crucial to preserving your oral health and restoring the function of your teeth.
Maintaining healthy teeth is an essential aspect of overall well-being, yet dental issues are prevalent in society.
Root canals, a common dental procedure, have gained a negative reputation over the years, causing unnecessary fear and anxiety among individuals. However, the truth is that root canals have significant benefits and serve as a key method for salvaging natural teeth.
When it comes to dental health, it is vital to explore all possible solutions before considering tooth extraction. Root canals offer numerous advantages, such as pain relief, preservation of natural teeth, and restoration of normal chewing and biting capacities.
In this post, we will delve into the importance of root canals and debunk the misconceptions surrounding this critical dental procedure.
What is a Root Canal?
A root canal is a dental procedure that is performed to save a severely damaged or infected tooth. The procedure involves removing the infected pulp from the tooth's root and cleaning and sealing the space to prevent further infection. The tooth and root remain intact in the mouth.
It is usually necessary when a tooth has extensive decay extending into the nerve/pulp, when the nerve is necrotic, or when the tooth is severely damaged due to trauma. A root canal helps to alleviate pain, prevent the spread of infection, and save the natural tooth from extraction.
Symptoms That Indicate a Need for a Root Canal
When it comes to our dental health, the warning signs aren't always obvious. It's essential to be aware of certain symptoms that might signal the need for a root canal. Recognizing these symptoms early can help prevent further complications and preserve the natural tooth.
Here are some of the most common symptoms:
Severe Tooth Pain: One of the most common symptoms is a sharp or throbbing pain, especially when chewing or applying pressure to the tooth.
Extended Sensitivity: While brief sensitivity to hot or cold foods can be common if it lingers for an extended period, it might indicate an underlying problem.
Tooth Discoloration: A darkening or discoloration of the tooth could be a sign of damaged or dead pulp inside, often requiring attention.
Swollen, Tender Gums: If the gums around a specific tooth become swollen or tender, or if you notice a raised bump on the gums, it could be a sign of an underlying infection.
Prolonged Pain or Discomfort: Continuous discomfort, even when not eating or drinking, can be a warning sign.
Previous Dental Work: Teeth that have had multiple dental procedures, fillings, or large restorations might be more prone to infection, leading to the need for a root canal.
If you experience any of these symptoms, it's crucial to consult with a dental professional promptly. Ignoring these signs could lead to more severe dental problems, including abscesses or the spread of infection.
Benefits of Preserving Natural Teeth
The beauty of our natural teeth goes beyond their aesthetic appeal. Preserving them has significant advantages:
Optimal Functionality: Natural teeth allow for efficient chewing and biting, ensuring proper digestion and nutrient absorption.
Clear Speech: They play a pivotal role in articulation and pronunciation, helping us communicate effectively.
Maintaining Facial Structure: Natural teeth support the facial muscles and prevent sagging, preserving our youthful appearance.
Oral Health: Keeping our original teeth helps maintain the alignment and health of neighboring teeth, reducing the risk of misalignment or other dental complications.
Cost-Efficient: In the long run, preserving natural teeth can be more cost-effective than replacements, with fewer maintenance requirements.
Emotional Well-being: A healthy set of natural teeth boosts confidence, ensuring a radiant smile and positive self-image.
Prioritizing the health of our natural teeth is not just a matter of vanity; it's an investment in our overall health and well-being.
Understanding the Role of Root Canals in Saving Teeth
When it comes to dental procedures, one that often brings on anxiety is a root canal. Many people associate root canals with pain and discomfort, but the truth is that this procedure is often necessary to preserve teeth and improve oral health.
Contrary to popular belief, a root canal is not a painful procedure. The discomfort that patients often associate with root canals actually comes from the infection or inflammation in the tooth, which the root canal aims to alleviate.
Now, let's explore the reasons why a root canal is used to preserve teeth:
When tooth decay reaches the innermost part of the tooth, known as the pulp, it can cause infection and severe pain.
A root canal is performed to remove the infected pulp and save the tooth from extraction. By eliminating the infection, the patient can avoid further complications and preserve the natural tooth structure.
Repairing Cracked or Damaged Teeth
Teeth that are cracked, fractured, or severely damaged due to trauma can be saved through a root canal.
This procedure allows the dentist to remove the damaged pulp, strengthen the tooth's structure, and restore its functionality. Without a root canal, extraction would be the only alternative to treat such teeth.
Alleviating Dental Abscess
A dental abscess is a pocket of pus caused by a bacterial infection in the root of a tooth. This infection can be extremely painful and may lead to serious complications if left untreated.
A root canal is the most effective way to eliminate the infection, alleviate pain, and prevent further damage to the surrounding tissues.
Maintaining natural teeth is always the preferred option for oral health. Root canals allow patients to preserve their natural teeth, which can provide better biting and chewing functionality, prevent neighboring teeth from shifting, and maintain overall oral health.
Compared to tooth extraction followed by a prosthetic replacement such as a dental implant or bridge, root canals are often a more cost-effective option. While the initial cost of a root canal may be higher, the long-term savings from preserving natural teeth make it a sensible choice for many patients.
Maintain Your Natural Smile With A Root Canal From BellaVista DentalCare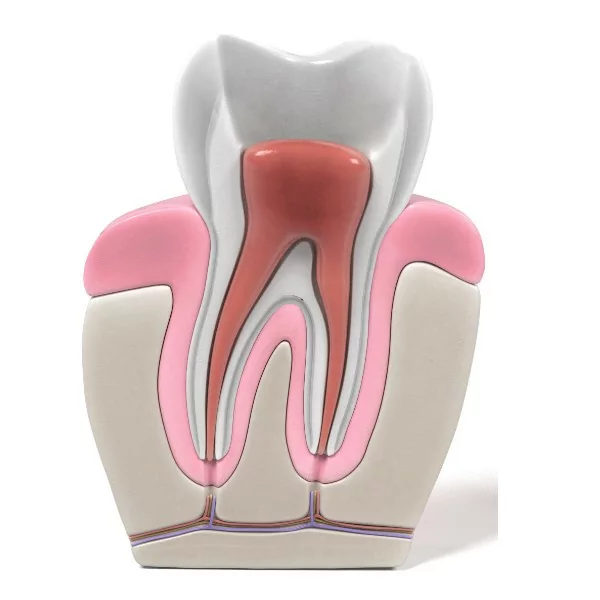 A root canal is a dental procedure used to save a tooth that has been infected or damaged. BellaVista DentalCare specializes in providing top-quality root canal treatments to help patients maintain their natural smile.
The skilled and experienced dental team at BellaVista Dental Care ensures that the procedure is conducted with utmost care and precision, using modern techniques and equipment to ensure minimal discomfort and a successful outcome.
By opting for a root canal, patients can avoid tooth extraction and preserve their natural smile, while also alleviating pain and preventing further complications.
Trust BellaVista DentalCare for all your root canal needs and experience comprehensive dental care in a comfortable and friendly environment. Contact us now for more details!