Gaps in your smile can affect you in a variety of unexpected ways. Just like muscles atrophy or shrink when they're not used, the jawbone loses density without routine, weight-bearing activity. Your jaw benefits from the stimulation it gets from tooth roots whenever teeth are used to chew or bite. Bone loss can become visible over time, as it alters the shape and structure of your facial features. The cheeks and lips that depend on bone for structure lose their fullness, and the nose and chin may appear more prominent – creating an aged and unbalanced profile. Tooth replacement services in Phoenix, AZ at BellaVista DentalCare preserve healthy bone and can even reverse the cosmetic and other devastating effects caused by missing teeth.
Crowns, bridges, and dentures built like natural teeth
Dental implants may be used to replace a single tooth, some teeth, or all your teeth. They're cylindrical-shaped posts made from medical-grade titanium, a material that is biocompatible with natural tissues. For these and other reasons, such as titanium's strength and wear-resistance, this metal is the leading material for artificial knee and hip joints. When placed in your jaw, titanium implants naturally fuse with surrounding bone. The implant becomes your tooth root. Like a natural tooth, the root supports the crown above the gumline. With implants, an abutment is placed and securely holds the implant and crown together. If you're missing a lot of teeth, dentures are held in place with clasps that connect to implants. Advanced systems allow for as little as four implants to support an entire upper or lower denture. This approach minimizes the number of implants needed to stabilize your denture, which ultimately means less time in the treatment chair and lower associated costs.
[call]
There are many advantages to dental implant-supported crowns, bridges, and dentures.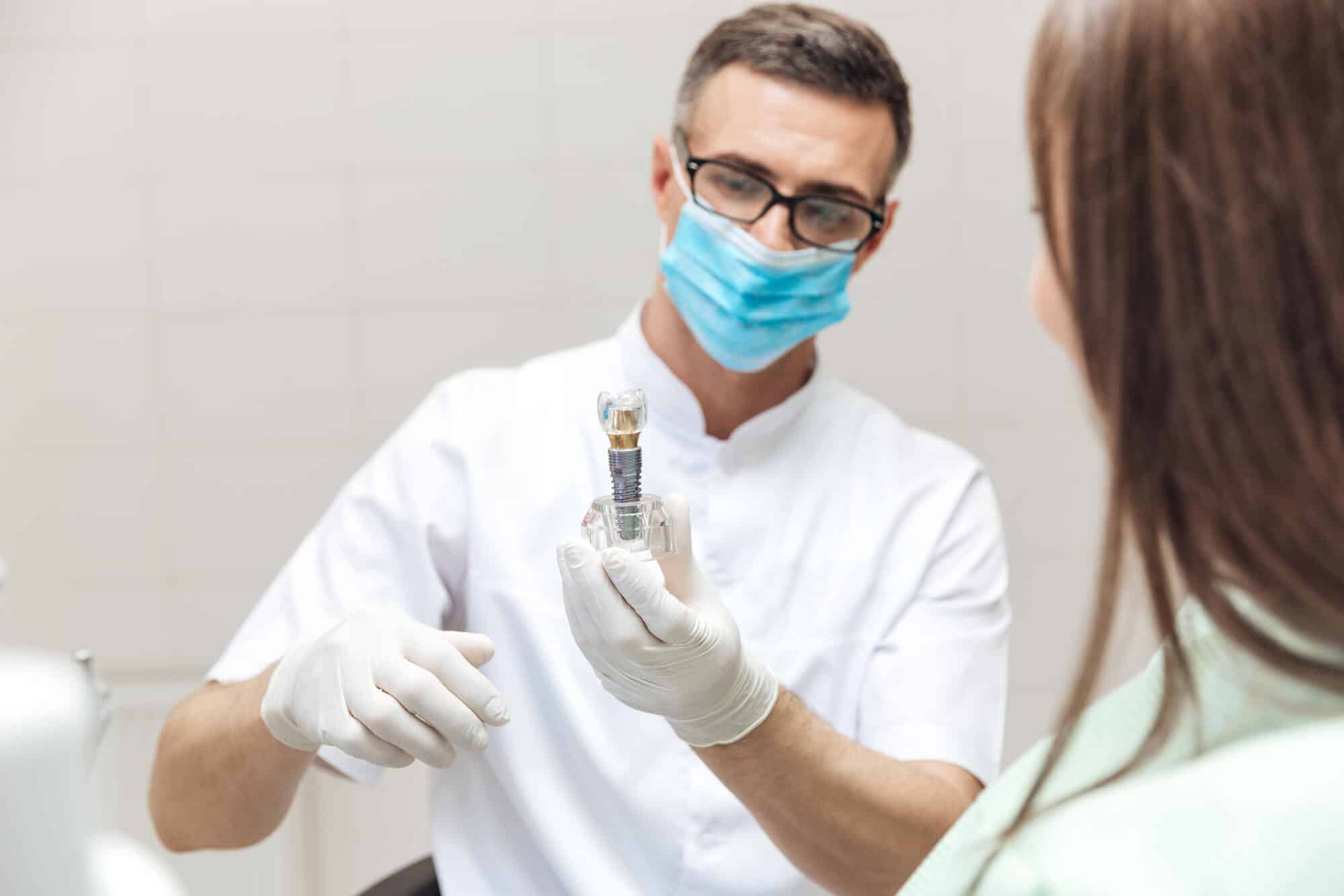 Since the roots that hold your teeth in place are attached to underlying bone, the jaw gets the physical stimulation (from the forces of chewing and biting) it needs to stay strong.
Designed to look and feel like natural teeth, implant-supported teeth allow effortless eating, speaking, and smiling.
The anxiety and discomfort associated with loose or ill-fitting dentures are avoided. You eat and speak freely without fear of embarrassing slip-ups.
No adhesives, creams, or other special products are needed to maintain the health of your new teeth. You brush and floss them just like natural teeth.
Implants are designed to last. There is no need for replacement after five or ten years, or for ongoing relining to ensure proper fit as is the case with conventional dentures.
Of course, tooth replacement isn't limited to one type of procedure. Some patients may prefer or be good candidates for dental bridges or conventional removable partial or complete dentures. Drs. Bhatnagar and Birch recommend options based on many factors, including your oral health needs, personal preferences, and budget. If you are missing a single tooth or some teeth, a dental bridge can be a cost-effective form of tooth replacement. Some healthy tooth structure is needed, because the replacement tooth gets its support from neighboring teeth. Those neighboring teeth are modified to accommodate crowns, which are necessary to provide adequate support to your new tooth (or teeth). Generally, bridges are low-maintenance but may require interdental brushes or special floss to properly clean under the bridge. BellaVista DentalCare is happy to show you techniques to retain your bridge's lasting health.
A patient's satisfaction with conventional dentures is often based on fit. Our team takes great care to design dentures that look and feel like natural, healthy teeth. A denture that fits as it should will support healthy chewing, speaking, and other functions. You can be confident in your smile!
Regardless of the type of tooth replacement you choose, BellaVista DentalCare prides itself in using advanced diagnostics and quality materials so you can be happy with your new teeth. The office also offers technologies such as CEREC that allow crowns and other restorations to be made in a single visit – while you wait –from a durable, lifelike ceramic. We offer convenient, no-hassle services without cutting corners on quality.
Call 480-598-5900 to schedule an appointment.