Local Dentist Office Near Me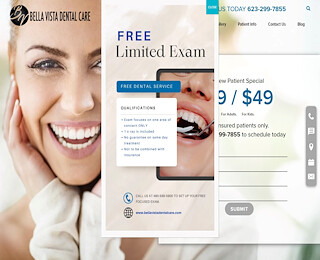 Maintaining a great dental health status is something that you should do consciously and work on every day. The small things you do daily may be putting you at high risk of developing dental problems. It is also the little things that will keep your teeth at their best condition. At Bella Vista Dental Care, we are here for all your dental health needs in Phoenix. With expertise in general, cosmetic, restorative, and family dentistry, you can trust us to provide you with the best dental care.
Habits That are Bad for Your Dental Health
Some habits that may seem harmless actually affect your teeth and lead to serious problems. These habits include:
Smoking Tobacco – Tobacco produces a layer of tar that forms on the surface of your teeth, resulting in stains. Other than discoloration, it may also lead to gum disease and tooth decay.
Chewing Hard Foods and Things – Chewing on pencils and pens may be something you do subconsciously, but it may eventually cause your teeth to chip and crack. It can also irritate soft tissues inside the mouth and cause sores.
Brushing Too Hard – Brushing is the most basic dental care routine. Doing it the wrong way cause more harm than good. Using toothbrushes with hard bristles and applying too much force may damage the enamel of your teeth and irritate gums.
Excessive Coffee Drinking – The color of coffee stains your teeth when taken regularly.
At Bella Vista Dental care, we are your go-to professionals when it comes to your search for the best 'local dentist office near me.' Right from consultation to your appointments with the dentist, you'll be received warmly and get the help you need.
What Foods and Drinks are Bad for Your Teeth?
What you eat and drink has a lot of impact on your body, including your dental health. Some of these foods are:
Sugary Treats – Sugary snacks and foods combine with plaque on the teeth to produce acids that stimulate problems such as decay and cavities.
Sour Candies – Sour candy is tougher on your teeth than other sweets because of the many different kinds of acids it contains. These candies stick on your teeth for longer because they're chewy, thus increasing the chances of tooth decay.
Alcohol – A dry mouth is a risk to your dental health. This is what makes regular consumption of alcohol a bad idea for your teeth because alcohol dries out your mouth. The lack of saliva means food particles easily stick to your teeth leading to the accumulation of bacteria.
Carbonated Drinks – Drinks such as soda cause production of acids. Acids attack the tooth enamel and cause it to erode and decay.
What is The Best Daily Care Routine to Protect Your Teeth?
A simple dental care routine can help keep your teeth safe from the effects of bad habits and certain foods and drinks. Your routine should include brushing and flossing your teeth daily, then rinsing with mouthwash afterward. In addition, clean your tongue as plaque may accumulate there too, and cause bad odor.
Phoenix Dentists
Bella Vista Dental Care is your one-stop dental clinic in the areas around Phoenix. To find a 'local dentist office near me,' call us on 888-757-8007 for new patients and 480-598-5900 for existing patients. We offer comprehensive dental solutions that will leave you with a bright and brilliant smile.
Local Dentist Office Near Me
BellaVista DentalCare
8887578007
15715 S 46th St, # 104, Phoenix, AZ 85048
View Larger Map
We welcome your comments!