Phoenix Arizona Dentist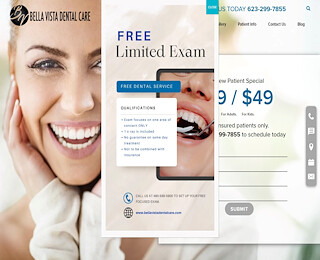 Dental appointments should not be scheduled only when there is an issue that needs to be addressed. Dentists, together with the American Dental Association (ADA), recommend that you get a dental checkup at least once every six months for proper maintenance of healthy gums and teeth.
At Bella Vista Dental Care, we have the most experienced Phoenix Arizona Dentist. We accept both early and late appointment bookings, for more convenience. To give our clients brighter smiles, we offer various cosmetic services ranging from teeth whitening and porcelain veneers to Invisalign. In addition, we use the latest dental techniques to ensure our clients receive quality and long-lasting dental services.
Is Mouthwash Necessary in Oral Care?
Mouthwash can be used for various dental purposes such as fresh breath, sensitivity, and cavity protection. However, that will only be achieved if you combine mouth wash with regular brushing and flossing of teeth. Mouthwash containing fluoride is the best as it prevents cavities and other dental issues in a one-minute mouth rinse. Look for an alcohol-free mouthwash. Alcohol-based mouth wash is associated with health issues such as oral cancer and dry mouth.
How Can You Prevent Cavities?
Tooth decay affects the enamel and the dentine layer of teeth. This destruction of the tooth structure occurs when sugars and starches are left on the teeth.
The bacteria present in the mouth digest the sugars turning them into acids that destroy the enamel, creating holes known as cavities. The following practices will help prevent tooth decay:
Brush after every meal with a toothpaste containing fluoride. If you are not in a position to brush after every meal, ensure that you brush your teeth in the morning and at night before going to bed.
Include flossing in your daily oral care routine to get rid of any food particles stuck in between your teeth.
After brushing and flossing, rinse your mouth with a fluoride-containing, alcohol-free mouth wash. Mouth wash with antiseptic properties will help fight plaque-causing bacteria.
Eat more healthy foods and fewer snacks. Avoid carbohydrates such as chips and as they will get stuck on the surface of your teeth. Otherwise, ensure you brush your teeth immediately after eating them.
Visit your dentist at least twice every year for oral examination and professional cleaning.
Fun Ways to Make Kids Brush Their Teeth
Oral and dental hygiene is important even for children. Tooth decay is a common chronic disease affecting many kids. The following tips will make your children excited about brushing their teeth:
Introduction to Oral Hygiene
 Introduce your kids to early morning and night oral routine before their first tooth arrives. Wipe their gums with a damp cloth. Switch to a toothbrush immediately a tooth comes in.
Be sure to practice what you preach. Kids emulate whatever their parents do. Your children should see you brushing your teeth to learn from you.
Affordable Dental Services
Put your smile in able hands. At Bella Vista Dental Care, you will find an exceptional Phoenix Arizona dentist at competitive rates. To schedule your appointment, call us today on 888-757-8007 for new patients, and 480-598-5900 for existing patients.
BellaVista DentalCare
8887578007
15715 S 46th St, # 104, Phoenix, AZ 85048
View Larger Map
We welcome your comments!